Cheltenham's war memorial to be refurbished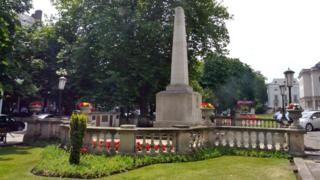 Work is due to start to restore Cheltenham's war memorial.
The first phase of the project will see repaving of the memorial in York stone, cleaning the balustrades, LED lighting and drainage improvements.
A borough council spokesman said it was hoped the work would be finished in time for Battle of Britain Day.
He said it was part of a longer-term plan which would see all the names on the memorial restored and the garden lanterns refurbished.
'Valour and sacrifice'
The spokesman said the first stage of the work would cost £60,000, with an estimated cost of £400,000 for phase two.
Town mayor, councillor Simon Wheeler, said the memorial formed part of Cheltenham's heritage and it needed to be looked after.
"The next four years will be a highly emotive time as we remember and recognise the valour and sacrifice of those who fought and worked in the Great War," he said.
"For those who didn't come home, we seek to at least ensure their names remain etched in Cheltenham's history."