Cheltenham Banksy artwork government claims dismissed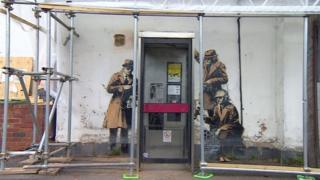 Claims a Banksy image painted on a Cheltenham house belongs to the Department for Transport (DfT) have been dismissed.
Campaigners trying to stop the artwork from being removed said they had proof the wall was owned by the government.
They argued it was originally the interior wall of a house which was bought and demolished in the 1960s for road improvements.
The DfT said it had owned the land but not the wall the picture was on.
Title transfer
Last week, retired chartered surveyor Phil Jones said a Land Registry title proved the wall was owned by the secretary of state for transport.
But a DfT spokesman said: "Initial investigations by the Highways Agency suggest the land was bought for road construction in 1963, but responsibility for the road has since transferred to the local highway authority.
"The Highways Agency is soon to formally transfer the registered titles from roads it no longer owns to the relevant local highway authorities."
A Gloucestershire County Council spokesman said, although it did own the land, the authority did not own the wall itself and did not have any claim to it.
The "Spy Booth" artwork, depicting men "snooping" on a phone box, appeared in April three miles from government listening post GCHQ.
Since then, campaigners have been trying to keep it in situ after owners of the house claimed it had been sold and workmen arrived to remove it.
Earlier this month Cheltenham Borough Council issued a temporary stop notice, which expires on 30 July, preventing further removal work from taking place on the Grade II* listed building.
Previously the owner of the house, Roger Wilson, said he was taking legal advice about the ownership of the wall, on the corner of Fairview Road and Hewlett Road.