Clearwell quarry expansion proposals criticised by councillor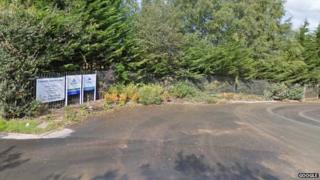 A parish council chairman has warned proposals to expand a quarry in the Forest of Dean could damage buildings and contaminate water courses.
Clearwell quarry is one of 18 sites identified by the county council for new or expanded quarries as part of the Draft Minerals Local Plan (MLP).
John James, of Newland Parish Council, said there would also be an increase in traffic, dust and noise.
A county council spokesman said consultation was open on all sites.
The spokesman, Simon Excell, said: "There's nothing set in stone at the moment. We've got various site options for future quarries.
"Some of those have got pros and cons associated with them. We've very keen for the public to get engaged in the process."
'Health concerns'
Gloucestershire County Council's MLP sets out objectives for managing its mineral resources over the next 15 years.
To halt depleting reserves, 18 options for potential sites have been identified: 12 in the Cotswolds, two near Tewkesbury and 4 in the Forest of Dean.
One of those sites, Clearwell quarry near Lydney, could increase in size by over 400 acres (1.62 sq km).
But Mr James said the subsequent increased traffic through Coleford, Lydney and St Briavels was a concern.
"They all have to go through one of those three places and the roads there really aren't suitable," he added.
"We've been told that some of the houses are subject to vibration when they are blasting at the quarry. And obviously there are concerns about the dust and the effects this can have on health."
Breedon Aggregates-owned Clearwell quarry produces limestone aggregates and is one of the largest limestone quarries in the region.
The latest consultation runs until 18 August.