Cheltenham man Daniel Spencer guilty of ex-wife's murder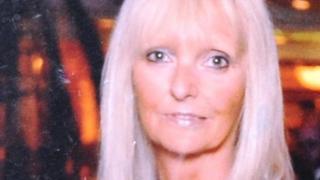 A man from Cheltenham has been found guilty of strangling his ex-wife and hiding her body, which lay undiscovered for weeks in her bed.
Daniel Spencer, 59, had denied murdering Jane Wiggett, 57, at her home in Cheltenham, last July.
They were married for 30 years but during that time Ms Wiggett had reported him to police for grabbing her by her throat. They divorced in 2005.
A domestic homicide review will take now place, Gloucestershire Police said.
Violent bully
Spencer, of Presbury Road, Cheltenham, killed Ms Wiggett on 24 July last year, Bristol Crown Court heard.
Det Ch Insp Ruth Mather from Gloucestershire Police led the investigation.
She said it was difficult to piece together the evidence to prove his guilt.
She added: "Over the past 40 years she had suffered numerous occasions of domestic abuse and violence until she had the courage to leave and divorce him.
"However, Danny Spencer continued to intrude and impose on her life which she sometimes tolerated for the benefit of her children and grandchildren until Mr Spencer murdered her.
"Mr Spencer was a bully towards Jane Wiggett and relied on fear and violence to control her life."
The domestic homicide review will establish Gloucestershire Police's response to reported incidents before she was killed.
Fleeing fugitive
The court heard how friends and family became concerned about her disappearance two days later, after she did not turn up for appointments.
After looking around the property they did not spot her body concealed in her bed as it was so well-hidden, the jury was told.
Her face was covered with a pillow and the quilt was placed over her body.
But their suspicions continued to grow and Ms Wiggett was reported missing on 15 August.
Police discovered her body the following day.
The post-mortem examination found Ms Wiggett had been struck with something before she died, but her death was caused by strangulation. Traces of Spencer's blood were found under her fingernails.
Police contacted Spencer who promised to hand himself in but instead he fled north and stayed in a hotel in Birmingham airport under a false name.
After a police appeal, a member of staff contacted police who arrested him on August.