Daniel Spencer gets life term for ex-wife Jane Wiggett's murder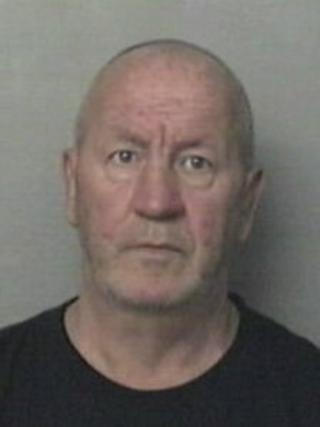 A man who strangled his ex-wife and hid her body, which then lay undiscovered for weeks in her bed, has been sentenced to life in prison.
Daniel Spencer, 59, was given a minimum tariff of 16 years for the murder of Jane Wiggett, at her Cheltenham home.
They were married for 30 years and during that time Ms Wiggett, 57, had reported him to police for grabbing her by the throat. They divorced in 2005.
A domestic homicide review will take place, Gloucestershire Police has said.
The review will examine the force's response to reported incidents before Ms Wiggett was killed, on 24 July 2013.
Blood under fingernails
Spencer, of Presbury Road, Cheltenham, had denied the murder of his ex-wife.
Bristol Crown Court was told friends and family had become concerned about her disappearance after she did not turn up for appointments.
However, when they went to look for her they did not spot her body concealed in her bed as it was so well-hidden, the jury was told.
Her face had been covered with a pillow and "her quilt was then carefully put over her as if to hide the fact that she was dead inside", prosecutors said.
She was reported missing on 15 August and police discovered her body the following day.
Traces of Spencer's blood were found under her fingernails.
Police contacted Spencer who promised to hand himself in but instead he fled north and stayed in a Birmingham airport hotel under a false name.
Ms Wiggett's family paid tribute to her in a statement.
It said: "Jane was a very private person and would have hated all the attention.
"But she was popular, funny, sensitive, kind, loyal and very protective of her family."
James Ward, from the Crown Prosecution Service, said: "This tragic case illustrates how abuse can escalate even when a relationship has ended."