Swimmer Sean Conway to run length of Britain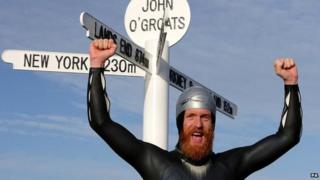 The first man to swim the length of Britain has begun his next challenge - running it, unsupported.
Last year Sean Conway swam from Lands End to John O'Groats, via Ireland, over four and a half months.
On 9 August he started running from John O'Groats and aims to reach Lands End around 20 September.
Mr Conway, 33, from Cheltenham, said he had not had the best start: "I was a bit silly. I was taking a selfie while running and tripped on a rock."
His current adventure has also seen him sleeping in a garage to avoid midges.
'Fun and spontaneous'
"There's so many midges in Scotland this time of year and I definitely didn't anticipate how aggressive they were," he said.
"I had two failed attempts at trying to set up camp... so I just knocked on an old couple's door and asked if I could sleep in their garage and they kindly let me do that.
"Today's task is to try and find a tent instead of this little tarpaulin and midgey net."
The tracker on his website currently points to him being in Lairg, but he has little internet access himself to know where he is.
"I started off with a bang, probably too much of a bang, and I did 85 to 90 miles in the first three days," he said.
It was after that he tripped on the rock.
"It's actually caused me a bit of pain in my ankle and that's worked it's way up to my knee because I was overcompensating, so the mileage has dropped massively to 15 or 20 (miles a day).
"I wanted this one to be fun and spontaneous... no film crew, just me on the road and people on Twitter telling me where to go and places to visit."
Mr Conway has also previously cycled the length of Britain. Funds raised from the latest challenge will go to the British Heart Foundation.