New skate park in Cirencester is officially opened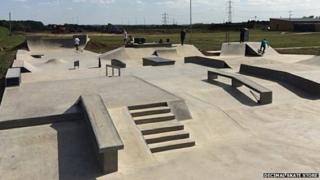 A stake park has been officially opened in Cirencester.
The £200,000 facility in Kingshill Lane was officially unveiled at the town's annual "skate jam".
Local skateboarders were consulted about the design of the site, which has been funded by the town council and a grant of £40,000 from Sport England.
Gareth Parsons, of Decimal Skate Store, said: "We are lucky enough to have one of the best skate parks in the south of England on our doorstep."