Selfie ends Sean Conway's length of Britain run challenge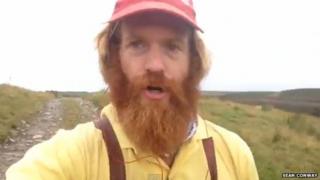 A twisted ankle suffered while filming a video selfie has caused endurance adventurer Sean Conway to abandon his Length of Britain run.
Last year Mr Conway swam from Lands End to John O'Groats, via Ireland, over four and a half months.
He started running from John O'Groats on 9 August and aimed to reach Lands End around 20 September.
The "embarrassing" fall led to more serious injuries which prevented the 33-year-old from running further.
'Bad terrain'
Mr Conway, who is from Cheltenham, said: "I was doing a video selfie and I was just running along and I tripped up on a rock and slightly injured my ankle.
"But it really wasn't a serious injury at all - I was stretching and it was okay so I carried on running.
"Over the next few days with my ankle being injured and my knees taking over, some bad terrain and camber issues on the side of the road, all added to pressure building on my knees."
He said after taking medical advice, he took it easy but another fall 10 days later ended his chances.
'Difficult conditions'
"I went one way, my knee went the other way and unfortunately at that moment I knew it was going to be game over with that immediate pain in my knee."
Mr Conway was running unaided describing conditions as difficult with lots of midges and wet rocky trails to run along.
He took a route along the north coast and got as far as Loch Ness having covered more than 200 miles when the run was abandoned.
The athlete has also previously cycled the length of Britain. He has raised £1,000 for the British Heart Foundation.
Despite the fall, he said he would not have done anything differently. He plans to try again next May to continue his fundraising efforts.