Battle of Tewkesbury site bid submitted by campaigners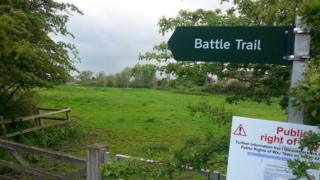 Campaigners have submitted their bid to buy the site of a 15th Century battle fought during the Wars of the Roses.
The Battle of Tewkesbury site, known as Gastons Fields, was put up for sale by Tewkesbury School's trust fund with a guide price of £120,000 to £150,000.
It was where Yorkist King Edward IV's forces triumphed over the Lancastrians at the Battle of Tewkesbury in 1471.
Campaigners said they had raised at least 120,000 but would not confirm exactly how much their offer was.
If the bid is successful the area will be used for leisure activities and by people with an academic interest in battlefields, campaigners have said.
The land had been due to be sold by auction but Tewkesbury Borough Council listed it as an asset of community value, giving campaigners time to raise funds.
It is not known if any other parties have been invited to bid.