Joanna Parrish murder: Plaque unveiled at student's school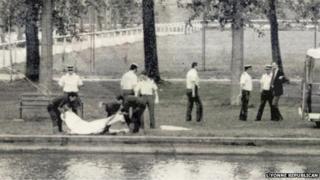 The parents of a British student who was murdered in France more than twenty years ago have unveiled a plaque at her old school.
Joanna Parrish, from Gloucestershire, was found raped and strangled in a river in Auxerre on 17 May, 1990.
Miss Parrish, 21, was deputy head girl at Ribston Hall High School in Gloucester, and the new sixth form building has been named after her.
Her mother, Pauline Murrell, said her daughter would have been "delighted".
"I think it's wonderful. I think Jo would be absolutely thrilled. It's such an honour," she added.
"She loved school and she loved the people. She loved the girls that she was at school with and she loved most of the teachers I think.
"She worked hard but she played hard. She was a very bright, bubbly personality and I think everybody loved her.
"I think there might be a box of Kleenex [tissues] standing by [today]."
Miss Parrish was abducted after placing an advertisement in a local newspaper offering English lessons.
She had been raped, beaten and strangled and her body dumped in the River Yonne near to where she lived.
French serial killer Michel Fourniret was a suspect in her murder, although he was never tried.
The case was closed in 2010 and then reopened in 2012 after police in France revealed they were to question a new suspect.
Both Miss Parrish's parents, Ms Murrell and Roger Parrish, cut the ribbon at the ceremony earlier.