Moreton-in-Marsh flood prevention work may start 'within months'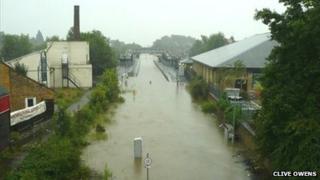 A project to protect 200 homes at risk of flooding in Gloucestershire could start "within months".
The scheme, which will receive up to £250,000, would help protect Moreton-in-Marsh by diverting water from the nearby Stow Brook.
Large parts of Gloucestershire were badly affected by floodwater in 2007.
Councillor David Fowles, from Cotswold District Council, said providing flood relief was one of the authority's top tasks.
"Twenty settlements and over 1,100 houses were badly affected," Mr Fowles, who is responsible for the district council's environment, said.
"It's anticipated that works could go ahead within the next few months, subject to necessary permissions being obtained and favourable weather conditions.
"The Moreton flood relief project is the most significant in the Cotswolds so far and should hopefully safeguard the homes of many residents against the risk of future flooding."
The work would see 1.5km (0.9m) of ditches and culverts built.