Critically injured man 'may have been thrown from van' in Wotton-under-Edge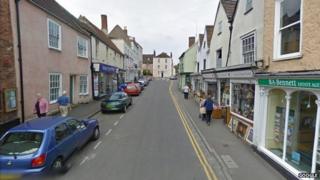 Police in Gloucestershire say a 41-year-old man who suffered life-threatening injuries may have been thrown from a van.
Officers were called to the High Street in Wotton-under-Edge on Saturday night by paramedics who were treating him.
Two men, aged 24 and 27, and both from Bristol, were arrested on suspicion of causing grievous bodily harm shortly after the incident at 21:25 BST.
A third man, also from Bristol was arrested on Sunday afternoon.
All three suspects remain in custody.
A Gloucestershire Police spokesman said a witness told officers a green Volkswagen van, registration number N125 AWE, had been driven the wrong way along a one-way road in the centre of Wotton-under-Edge shortly beforehand.
"Officers are investigating whether the injured man was pushed out of the van," he added.