Gloucestershire incinerator decision delayed by two months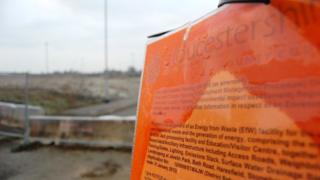 Campaigners against an incinerator being built near Gloucester have forced the government to delay giving its final decision by two months.
Communities Secretary Eric Pickles was due to announce on Wednesday if the £500m plant would go ahead.
Campaigners argued that a separate plant treating biological waste was being built near Cheltenham and undermined the need for an incinerator.
Mr Pickles will now consider this fact and will decide by the end of November.
Health worries
The proposed anaerobic digester at Wingmoor Farm near Cheltenham would process up to 34,000 tonnes of food waste each year.
Plans for an incinerator on a 30-acre site site at Javelin Park near Gloucester have been debated for the past decade.
Developers say it would burn up to 190,000 tonnes of waste per year but questions have been raised about whether there would be enough waste to keep it running over a 25-year period.
Last year the planning application was rejected by the county council on the grounds it would damage the landscape.
However this was challenged by the developer, Urbaser Balfour Beatty which was awarded a 25-year contract by the council to build the plant.
A three-month public inquiry followed, with a government inspector listening to 150 hours of evidence.
Campaigners are fighting the plan due to its size, location, cost, environmental impact and potential health implications.
If Mr Pickles rules against the incinerator plans, the council potentially faces paying out millions of pounds to Urbaser Balfour Beatty in contract cancellation and other fees.