Cheltenham church officials 'sold painting without permission'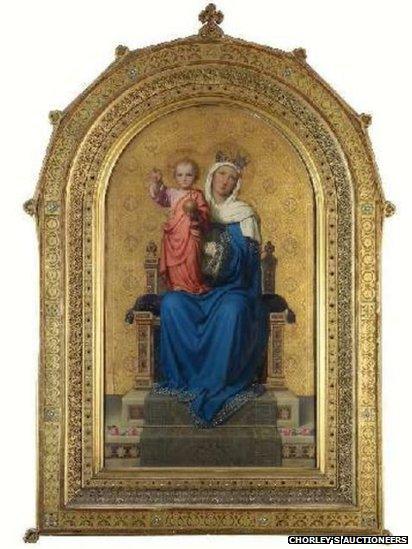 Church officials were "stupid" and their conduct "dismal" when they sold a painting at auction for £20,000 without diocesan permission, an investigation has found.
The Gloucester Diocese church court report accepted that the vicar and wardens had not acted dishonestly.
The 19th Century Madonna and Child by Franz Ittenbach was sold by Emmanuel Church in Cheltenham last October.
A parish spokesman stressed that officials had acted properly.
The vicar Reverend Jacqueline Rodwell has left the parish.
The results of an investigation by the chancellor of the diocese, June Rodgers, which have now been made public, found the painting was unwanted by the church and put up for sale by the vicar last year after an initial plan to throw it away.
Ms Rodgers said the legal position is that "disposal of any such item without a faculty is akin to theft of Church property".
'Unaware permission needed'
It was sold to a London art dealer by Chorley's auctioneers at Prinknash Abbey near Gloucester, in October 2013.
Following the investigation, retrospective permission to sell the painting, which was given to the church in about 1949, was granted.
It means the £20,000, which had been held in a trust by the Parochial Church Council (PCC) while an investigation took place, has now been freed up to be used by the parish.
The investigation found Ms Rodwell was unaware she needed a "faculty" from the diocesan chancellor that would have permitted her to sell church property.
The report states: "The conduct of the priest in charge and the church wardens in this matter has... been dismal.
"They have been really, really stupid. But they have not been dishonest."
The Venerable Robert Springett, the Archdeacon of Cheltenham, said the parish had been doing "the best they could".
"They were acting in a way that they thought was reasonable and right and hadn't quite recognised the significance of the process they needed to follow in obtaining a faculty to sell the painting," he said.
He said if the sale had not been authorised retrospectively the parish would have faced "financial hardship" through being forced to return the money, plus costs associated with the sale.
As a result of the ruling, auction houses and antique dealers across the UK have been warned not to accept anything from a church unless they are sure it may be legally sold.
Related Internet Links
The BBC is not responsible for the content of external sites.