Star Wars Jedi lightsaber combat techniques taught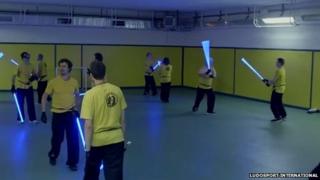 Star Wars fans are being given the opportunity to become Jedi Knights and learn how to wield lightsabers in combat.
LudoSport has opened its first academy teaching seven forms of combat from the Star Wars world using flexible blades mounted on weighted hilts.
The sport began eight years ago in Italy but has only just come to England with the first classes in Cheltenham.
Instructor Jordan Court said people were already "hooked".
The classes in Cheltenham began last month. So far there are six pupils, but this number is expected to increase.
Mr Court attended an international boot camp to learn the different stages of the sport which range in characteristics from defensive in stage one to "aggressive and flamboyant" in stage four and "unpredictable" in stage seven.
The 34-year-old said fighting with "an elegant weapon for a more civilized age" was a childhood dream come true.
"My brother and I used to steal our Mum's bamboo garden canes to fight with," he said.
The lightsabers used in the sport are all hand-made and are provided for use during the classes, Mr Court said.
The sport is so new to England that there have only been a handful of classes so far but Mr Court said there were plans to begin teaching in Bristol by the end of October... if "the Force" was with the academy.
---
Lightsaber Combat Academy
There are several ranks for those wishing to become a fully-fledged Jedi Knight:
Children aged 8-12 are "apprentices", and those aged 13 or over are "younglings"
Younglings start with a blue blade but those who achieve stage three of the sport become a Jedi and may choose the colour of their lightsaber
Students can choose to be either a Jedi Knight or a Sith
There are seven different fighting styles
Combat encounters take place in a rectangular or circular arena
Opponents aim for non-mortal (the hilt of the lightsaber, forearms and legs below the knee) and mortal (the rest of the body) targets
If a contender puts a single foot totally out of the arena he or she loses the match
---