Tributes paid to Gloucester 'hit-and-run' victim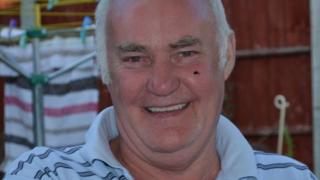 The family of a cyclist who was killed in a suspected hit-and-run in Gloucester, has paid tribute to him.
Alan Knight, 64, died in a collision with a BMW on the Stroud Road near St Barnabas Church last Friday, while cycling on his paper round.
His family described him as a loving husband, father and grandfather.
Three people have been arrested and bailed as part of an investigation and a fourth person is still being sought, Gloucestershire Police said.
In a statement his family said: "He has been tragically taken from us very suddenly in a way that no-one could have foreseen, while cycling on his paper round, and doing what he loved to do.
"He relished this hobby which had kept him fit and active over the last four years."