YMCA Gloucester youth hostel 'ready in new year'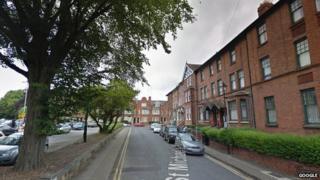 A £1m youth hostel in the centre of Gloucester will be ready to open early next year, the YMCA has said.
The project involves converting an office block in St Michael's Square into 16 units with shared kitchens.
In June, the charity secured £590,000 from the Homes and Communities Agency and £300,000 from the city council.
YMCA chief executive David Wallace said the charity still had to raise another £100,000 to pay for the final building costs such as room furnishings.
The charity has said the hostel will be for young people from Gloucester, where it says there is a great housing need.
In 2008, the YMCA closed its hostel in Kingsholm as it was no longer fit for purpose.
"There was a great demand for the YMCA to come back into the city so actually we've had a lot of encouragement," said Mr Wallace.
"The local authority, as part of our exit strategy of Kingsholm, they said they would assist with a new project in Gloucester and that's what the £300,000 is all about."