Battle of Stow location survey to take place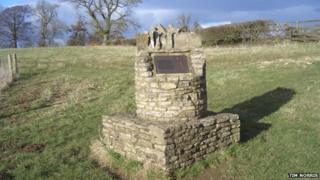 A survey is to be carried out to try to establish the exact location of The Battle of Stow.
The fighting, which took place in March 1646, was the last major battle of the first English Civil War.
Doubts over the position of the battlefield were raised after a monument was erected three miles (5km) north-west of the town in 2002.
Experts suggest the site was closer to Stow-on-the-Wold itself and the monument could be in the wrong place.
Tim Norris, from the town's civic society, said a £2,000 grant from the Arms and Armour Heritage Trust would be used to carry out a "low-budget, limited survey" of the battlefield area.
The survey will involve teams of metal detectorists hunting for objects, in a systematic way, on a grid laid out in the field.
It will not take place until after the next harvest, which is likely to be at the end of next summer.
"Hopefully it will give us an idea of where the battle was. We may be able to go ahead and do more investigations at a later date if we find something," said Mr Norris.
The location of the monument in 2002 was based on the discovery of some lead shot and local folklore.
A bid for £50,000 of Heritage Lottery Funding, to allow for a full survey to take place, was unsuccessful.