Corinium museum refurbishment plans unveiled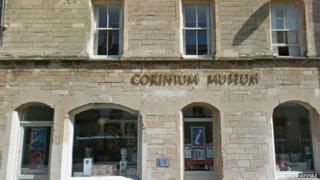 Plans for a £1.3m refurbishment of the Corinium Museum in Cirencester have been unveiled.
The project will include redevelopment of the museum's Prehistory, Iron Age and Early Roman galleries, which were not altered during a £6.5m revamp ten years ago.
Managers hope it will lead to an increase in visitor numbers and allow them to display items still in storage.
Cotswold District Council has agreed to put £50,000 towards the project.
Museum officials say visitor numbers initially increased after the 2004 refurbishment but have now levelled out, and they say there is a danger they will start to reduce.
In 2005/6 more than 52,000 people visited the museum, but last year it attracted only 40,000 visitors.
A council spokesman said the funding would allow the museum to interpret and display "exceptional" new finds which are not currently on show.
Councillor Carole Topple said: "The Corinium is a real jewel in the Cotswold crown - it holds large and internationally significant collections of archaeology, social and rural history and is rightly acknowledged as a treasure trove of Roman artefacts.
"However, to continue succeeding in the 21st century and become more resilient and sustainable it must keep on reviewing its operations and adapt to modern demands."
A bid for lottery cash is due to be submitted before the end of the month. If successful work on the project could begin in 2016.