Murder accused Anthony Poole 'acted in self defence'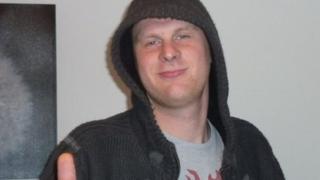 A man accused of murdering his friend during an argument told a jury he had acted in self defence.
Anthony Poole, 51, is accused of stabbing 30-year-old Martin Stokes at a flat in Gloucester, in January.
Giving evidence for the first time, he told Bristol Crown Court he lashed out with a "hammer fist blow" because he feared he would get stabbed himself.
He denies charges of murder and wounding with intent to cause grievous bodily harm.
The court heard Mr Poole, of Melbourne Street East, Gloucester, also stabbed Mr Stokes's friend, Ben Clark, in the chest before fleeing the Nettleton Road property on 13 January.
'Going to kick off'
"Martin picked up a knife and started waving it around," Mr Poole said.
"It was in his right hand and he was waving it around saying he had been cut before.
"I was trying to pacify him, saying we were supposed to be mates and he was saying 'We don't see you, we never see you.'
"Martin was waving the knife at me and I felt threatened and I knew something was going to kick off.
"I knew I was going to get stabbed. It was three against one. I picked up two knives from the kitchen side to arm myself against these three."
Mr Poole told the court Mr Stokes took a step towards him with a knife and he "lashed out".
'Reacted'
"I aimed towards his collarbone. I thought that if I took his collarbone out I would slow him down," he said.
"In the world I live in you can stab people if they are going to stab you. I know the police are not going to see it like that."
"I reacted how I knew I had to. I never intended any injury or death," he said.
The prosecution alleges Mr Poole lunged at Mr Stokes, stabbing him in the eye, after he was ridiculed about never having any money.
The victim fell from a window of the ground floor-flat into the basement stairwell below, and died eight days later.
The trial was adjourned until next week.