Fraudster 'Lord' Hugh Rodley must pay back over £1m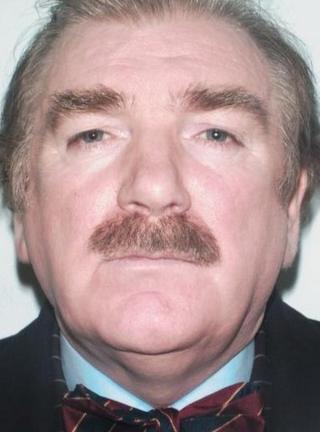 A self-appointed lord who was jailed for two multimillion-pound frauds has been given six months to pay back more than £1m - or face seven more years.
Hugh Rodley, 67, from Tewkesbury in Gloucestershire, was jailed for eight years in 2009 for an attempt to steal £229m from a Japanese bank.
In 2012, he was given an additional seven years after being convicted of conning 741 pensioners out of £6m.
Southwark Crown Court heard the money would go to investment scam victims.
Worthless shares
The money - £1,236,737 - was identified by National Crime Agency and City of London Police financial investigators as profits Rodley made from both criminal enterprises.
Among the assets were luxury cars and his manor house in Gloucestershire. Rodley bought his manorial title at auction in 1986.
The court also ordered Sonny Willis, Julian Silver and Adam Corbett to hand over assets totalling just over £250,000 or face additional time in prison.
They were jailed alongside Rodley in 2012 for their involvement in the scam in which pensioners were sold worthless shares.
Willis, 31, from Billericay in Essex, has six months to pay back £249,950 or face another two-and-a-half years in jail.
Corbett, 34, from Camberley in Surrey, also has six months to return £528 or he will serve an additional 14 days in prison.
Silver, 45, from Grays in Essex, has 28 days to pay back £1 as he currently has no available assets - or he faces another day in prison.