Funding approved for A417 'missing link' at Birdlip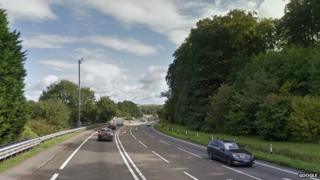 Money has been made available for a section of road known as the "missing link" on the A417 in Gloucestershire.
About £255m of government funding has been set aside from a £15bn pot of funding for road schemes in the UK.
A plan for a new loop road near Birdlip and dualling of the existing road is the government's preferred option, to help alleviate traffic congestion.
The route, which connects the M4 near Swindon to the M5 near Gloucester, is used by about 34,000 vehicles daily.
However a Department for Transport (DfT) spokesman said the scheme was a long way from being implemented because of environmental issues.
He said consensus was needed from all partners, including Natural England, which has expressed concerns about the loop section of road.
Leader of Gloucestershire County Council, Mark Hawthorne, said it was "great news" but there was "a lot of hard work" still to go.
"We've got a very complicated planning process to go through, and there is a huge amount of engineering work that will need to take place to understand the topography of the area," he said.