Sir Arthur Bonsall, former GCHQ director, dies aged 97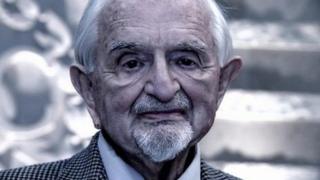 One of the former directors of the government spy base, GCHQ, who lived a "life in the shadows" has died aged 97.
Sir Arthur Bonsall led GCHQ in Gloucestershire from 1973 to 1978 and had served at Bletchley Park during the World War Two.
He became a tax commissioner after leaving GCHQ, and then after retiring became interested in speaking about Bletchley Park's work.
Sir Arthur, who was married with seven children, died on 26 November.
After graduating from St Catharine's College Cambridge he was recruited to the government's secret code breaking service in 1939 to undertake confidential war work at Bletchley Park.
Speaking last year, Sir Arthur said he had lived a life in the shadows for almost 40 years and revealed that it was still a shock to sees "GCHQ" as the destination on the front of buses.