UKIP Cheltenham says Aids row Twitter account is fake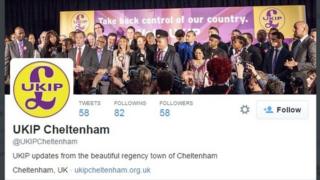 UKIP has said a Twitter account that claimed World Aids Day was a reminder to tighten UK borders was a fake and had nothing to do with the party.
The account @UKIPCheltenham was created last week and appeared to be official, making several posts about candidates and events in the Gloucestershire town.
The tweet about World Aids Day came on Monday night, went viral and led to the account being bombarded with criticism.
The account has since tweeted to say it is run by a group of UKIP supporters.
The post that attracted attention said: "#WorldAIDSDay is a sad day but also a reminder that we must tighten our borders #UKIP #immigration."
The person behind the messages subsequently wrote: "My #WorldAIDSDay tweet has got out of hand. I didn't mean to offend anyone with HIV or AIDS. We need to look beyond this and at our borders."
'Cyber attack'
They later tweeted: "This has all been taken out of context. Please stop the hate mail.
"We are a genuine group of @UKIP supporters. We didn't ask for this backlash. We were promoting our party leader's views on HIV & immigration."
But Christina Simmonds, who is hoping to win the Cheltenham seat for UKIP at the next General Election, denied the account was anything to do with the local party.
"UKIP Cheltenham has been the subject of a 'cyber attack' over the past 48 hours by someone setting up a fake Twitter account and issuing inflammatory messages in our name," she said.
"A non-existent local event was quoted, along with a person said to work with me who I have never heard of.
"It appears that this individual has also done the same to four other branches that we know of and this dirty tricks campaign has been denounced emphatically by UKIP's deputy chairman Suzanne Evans.
"We can expect more of this type of behaviour between now and May 2015, but UKIP doesn't work in this way, and I will fight the General Election in Cheltenham on the issues which affect people locally and nationally."
The @UKIPCheltenham account was set up on Friday, and it was following @UKIPEastLondon and @UkipYeovil, which the party said were troll or fake accounts.