Shaun James 2002 death: Police urge Crimewatch caller to contact them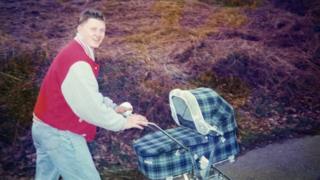 Police are urging an anonymous caller to Crimewatch to get back in touch about a hit-and-run death which has been reopened as a murder inquiry.
The body of Shaun James, 32, was found with multiple injuries in a Forest of Dean lane in December 2002.
His family claimed he was murdered but police closed the case after failing to establish whether it was accidental.
A reconstruction of the last 20 minutes of his life, where he was hit by a van, featured on BBC Crimewatch on Thursday.
Police now believe Mr James was the "victim of a cold-blooded murder" and was deliberately run over by a white van, following an argument with the driver.
They believe he was taken in the van to a lane off Steam Mills Road, near Cinderford, where he died.
Det Chief Insp Steve Porter, from Gloucestershire Police, said there had been a "good response" to the BBC television programme.
He said: "...there was one call in particular that called us about the white van and we're very keen for that individual to get back in touch with us today. They had some key information.
"We don't know if it's a local call, it's an anonymous call, we don't know where that call has come from.
"I believe it could be a local person and I really would urge them to get back in contact with us."
Det Chief Insp Porter said advances in forensic science and the reconstruction had enabled them to look at the case with "a new pair of eyes".
He said Mr James had been "laid on the floor" when he was hit by the vehicle and was "not standing up like a normal hit-and-run".