Cheltenham Wilson museum and art gallery overspend £0.5m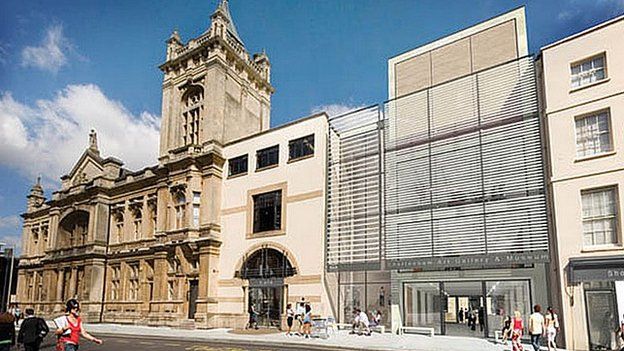 Refurbishment on Cheltenham's museum and art gallery cost £100,000 more than first thought, it has been revealed.
Work on The Wilson was completed in October 2013 after a 30-month closure.
In February Cheltenham Borough Council revealed the £6.3m project had cost £6.7m. A new audit has revealed the extra overspend.
The extra cost is likely to be covered by next year's council budget, due to be agreed in February.
Figures revealed by the council's audit committee show the the full extent of the £0.5m overspend was not revealed in a report to the council on 14 February.
Council chief executive Andrew North said it was "disappointing" and a breakdown in communication was to blame for the discrepancy.
"The people who were putting in the orders should have followed a process to make sure the information was being fed into the finance team, and the finance team were making sure it was being properly recorded.
"If all that had been done properly we'd have know exactly what position we were in financially, but because some of that information wasn't flowing through like it should have done we were in the dark about the total expenditure."
Mr North added that extra money "may well" have had to have been spent anyway.
Work on the refurbishment took 12 months longer than originally planned due to unforeseen and unavoidable work.
Problems included a structural engineering contractor going into liquidation and mistakes with concrete pouring which required removal and replacement.
Related Internet Links
The BBC is not responsible for the content of external sites.