Gloucestershire hospitals major incident status to continue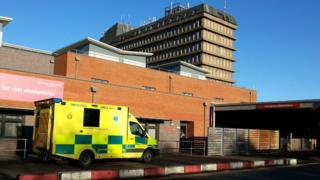 Hospitals in Gloucester and Cheltenham will operate under major incident status until at least Thursday.
Staff have been struggling to cope with the number of patients seeking emergency care since Monday, when the status was first declared.
At 17:30 GMT about 28 patients were waiting to be seen in A&E in Cheltenham, with a waiting time estimate of over two hours.
In Gloucester 31 patients were having to wait for 74 minutes.
A spokesman for Gloucestershire Hospitals NHS Foundation Trust said: "We continue to operate in a major internal critical incident status which will remain in place into tomorrow."
Patients with minor injuries have been urged not to attend the emergency departments where possible.