English Bicknor landslip stabilised using electricity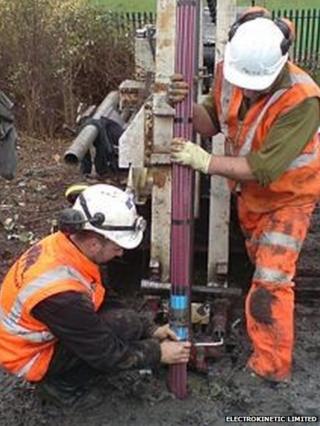 Engineers are using electricity to stabilise and strengthen ground where a landslip forced the closure of a road in the Forest of Dean.
Electrokinetic treatment sends pulses of electricity through the ground which forces out excess water and stabilises the soil so a road can be built.
The work, costing £700,000, is being carried out on the Ross Road between English Bicknor and Lydbrook.
The route is expected to be fully open again by March.
The technique has been developed over the last 15 years by Electrokinetic Limited, which is in charge of the project.
It was also used by the same firm in 2014 to stabilise the A419 Swindon embankment.
A spokesperson for Gloucestershire County Council said the road was first partially closed in November 2013 when the surface cracked and opened up.
It was fully closed the following January when the extent of the damage was realised.
The road is expected to partially reopen with temporary traffic lights in February.