Alfred Booy jailed over illegal waste sites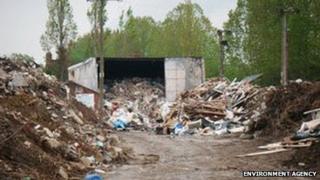 A man who ran illegal waste sites in Gloucestershire has been jailed for 18 months.
Alfred Booy, of Berkeley, admitted three charges relating to waste and permitting offences at his operation in Sharpness and Dursley.
Gloucester Crown Court heard he had been given notice to quit the Sharpness site in late 2010.
But despite notice being served, the rubbish was not been moved and the land was left in a "contaminated" state.
The court was also told Booy - and his Berkley-based company A1 Green Recycling Limited - had been operating its Bristol Road site in Dursley without an environmental permit.
No permits
Speaking after the case, an Environment Agency spokesman said Booy had been given "ample opportunity" to clear the Sharpness Waste Transfer Station "but failed to do so".
"By leaving the site full of waste there was a potential risk to the environment and it left the landowners with a site that was unusable," he said.
"Once Mr Booy left the Sharpness site he proceeded to move straight onto a new site which had no environment permit in place.
"By avoiding regulation, Alfred Booy will have saved thousands of pounds."
Booy admitted the three charges at an earlier hearing in November brought under the Environmental Permitting (England and Wales) Regulations 2010.
A fourth charge was ordered to remain on file.