Ex-PC in Gloucestershire fined for selling 'dangerous' horses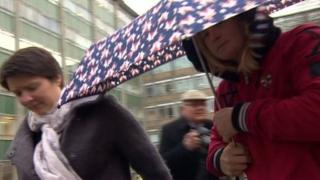 A former police officer has been given a suspended jail sentence after admitting selling "dangerous" horses to unsuitable clients in Gloucestershire.
Carrie Vinson, 33, pleaded guilty to selling two horses as being sound for beginners when they had previously shown erratic or dangerous behaviour.
Judge Jamie Tabor QC said the horse world now knows of her "dishonest reputation".
Vinson was sentenced to 12 months in jail, suspended for two years.
She was also ordered to pay £10,000 costs and £2,000 in compensation to two people who had bought horses from her.
Vinson, of Leonard Stanley, served with Gloucestershire Constabulary until 2012. She ran her equestrian business from Pilning near Bristol.
Behaved dangerously
Between 2011 and 2012 she advertised horses on a website called Horsemart and on Facebook and led buyers to believe the horses were hers or she was selling them on behalf of friends.
In fact, she was selling horses from an agent in Ireland.
The court was told Vinson sold the animals as "perfectly mannered" knowing they had previously behaved in a dangerous way.
Eddie Coventry, from Trading Standards, said: "The risk posed to the public from Miss Vinson's activities and her lack of concern for the safety of others is quite astonishing.
"I hope that this sentence sends a clear message to others who may be tempted to wrongly describe horses for their own financial gain."