Gloucester pub 'machete' killing prompts murder arrest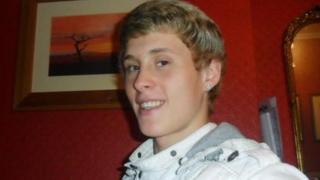 A murder inquiry has been launched after a man was killed in a suspected machete attack in a pub car park.
The 19-year-old victim, named locally as Zac Evans, died outside The Pike and Musket pub in Tuffley, Gloucestershire, police said.
Three men were assaulted by a man with a "bladed weapon believed to be a machete" at about 00:40 GMT, officers confirmed.
A man has been arrested in on suspicion of murder.
A man, 22, was seriously hurt and is in a stable condition in hospital following surgery, police said.
An 18-year-old man received minor injuries.
Police said a weapon had not been recovered.
John Powell, who lives nearby, said he heard "shouting and screaming" around the time of the attack.
"My wife looked out of the bedroom window and saw someone down outside the pub," he said.
"We guessed there was something wrong, and the next thing we knew, all these police cars and flashing lights came up. We guessed it was something serious.
"You can't imagine it happening in a place as quiet as this."
Police appealed for witnesses to contact them.