Painswick lingerie shop built for Rowling's Vacancy drama causes complaints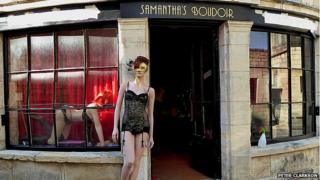 A lingerie shop built for the TV adaptation of JK Rowling's The Casual Vacancy confused shoppers and raised complaints, it has been revealed.
For the filming of the BBC One series, an underwear shop front was created in the Gloucestershire town of Painswick.
But director Jonny Campbell said people confused it for a real shop and complained to the parish council.
The Harry Potter author's novel is set in the idyllic fictional village of Pagford but reveals a town at war.
The fake shop front for 'Samantha's Boudoir', built in the centre of Painswick in August, raised eyebrows among the village and had passers-by trying to shop for risqué underwear.
"There were a couple of occasions while we were filming where a couple of old ladies with white hair, a stick, were walking past and looking in the window and said 'oh no, I've got all that stuff'," said Mr Campbell.
"And someone came in and thought there was a sale on, so there were several people walking around."
The three-part mini-series, due to be shown on BBC One next month, follows the intrigues and upheavals in a village community caused by a vacancy on the parish council.
Although Mr Campbell admitted the confusion had been "amusing", he added the boutique - run by character Samantha Mollison and played by Keeley Hawes - had not met everyone's approval.
"They complained about it at the local parish council meeting...said it was a disgrace," he said
'Shame not real'
Rob Lewis, from Painswick Parish Council, said a lady had called the council to complain the "scantily clad" mannequins on display were "not appropriate for Painswick".
"Once we explained that it was for a TV production, she seemed much happier," he said.
"But as well as ladies wishing to visit the shop for its 'closing down sale' - a number of ladies (and gents) have commented on what a shame the shop can't still be open."
The series, starring Michael Gambon, Julia McKenzie and Rory Kinnear, was filmed over the summer in Northleach, Painswick and Minchinhampton in the Cotswolds.
The Casual Vacancy will be shown on BBC One in February.