Stroud roof-collapse swimming pool reopens to public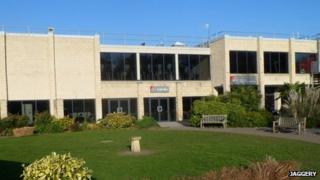 A swimming pool that had to close after part of its roof collapsed has reopened to the public.
The pool at Stratford Park Leisure Centre was closed on 19 January after a section of the "suspended ceiling" above the pool fell on to the poolside.
A spokesman for Stroud District Council said checks and repairs had be to made to the "entire structure".
"Now we are completely satisfied that the whole ceiling is secure and safe we have reopened the pool," he added.
"We're grateful to customers for the patience they have shown whilst this much-loved facility has been closed."
Public swimming between midday and 17:00 GMT is free of charge as a "thank you to customers for their support", the district council added.