Gloucester man in Oxford Ebola vaccine trial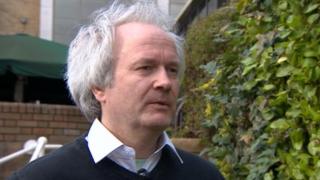 A man who has volunteered to be injected with a strain of the Ebola virus said it was "nice" to be involved in finding a vaccine for the disease.
Dr Neil Walker, from Gloucester, will have a course of injections as part of a trial at Oxford University.
The Oxford University Hospitals NHS Trust scientist said the Ebola DNA had been engineered so it cannot replicate and was not infectious.
He said he currently felt "fine" and "no different from usual".
"Different people have reacted differently," he told the BBC.
"I know some people who work in science and they think 'oh, that's an interesting thing to do'.
"But I had one friend who was quite aghast when I mentioned it to him. I did explain to him that the risks really are minimal."
Trials of a potential new vaccine against the Ebola virus got under way early last month.
If successful, they could be used to immunise health workers battling the disease in West Africa by the end of the year.
More than 22,000 people have been infected with Ebola and 8,795 have died in Sierra Leone, Guinea and Liberia.
Dr Walker added: "It's a helpful thing to do but it's also interesting as a topical issue.
"I wouldn't feel proud about it because if it wasn't me who volunteered it would have been someone else, I'm sure.
"The people who are really putting themselves at risk are the people who have gone to the countries involved. [They] really are putting themselves on the front line.
"It's nice, for want of a better word to have been involved in a small way in developing a vaccine."