Gloucestershire Police freezes share of council tax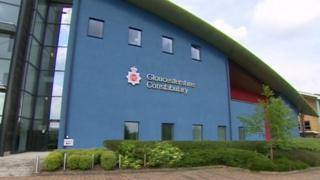 The portion of council tax people in Gloucestershire pay for the police budget will stay the same as last year.
The county council's Police and Crime Panel has approved Police and Crime Commissioner (PCC) Martin Surl's proposal for a standstill budget.
It means people living in an average Band D property will pay £207.73 for the police precept - the policing part of council tax bills - in 2015/16.
Police officer recruitment will be "paused" as a result of the decision.
Gloucestershire's Chief Constable, Suzette Davenport, had requested a 1.99% increase to the budget.
'Recruitment freeze'
Mr Surl said: "The chief constable made a very strong case. The only reason I didn't recommend an increase myself, was because I made a promise last year that I would not raise the precept this time, unless there were exceptional circumstances."
"The chief constable and all my advisors tell me these are exceptional circumstances.
"Members were committed in their views both for and against an increase, and I respect their decision.
"But make no mistake, these are very challenging times for all public bodies and there's no doubt it will get tougher for the police before it gets better."
Ms Davenport said she "fully recognised" the panel's commitment to a council tax freeze.
"Therefore a decision has been made to pause police officer recruitment from April this year, with every effort being made to keep officer reductions to a minimum," she said.
"All in all, the public can continue to rely on us and I remain upbeat about our plans for the future."
The total police and crime budget for Gloucestershire, for 2015/16, is £105m.