Forest of Dean hockey stick death: Edward Belson jailed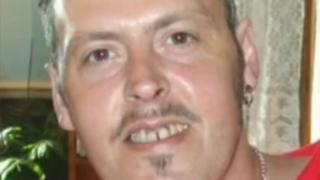 A man who attacked his neighbour with a hockey stick following an argument has been jailed for six years.
A jury heard Edward Belson, 36, battered Christopher Cooling, 44, after Mr Cooling went to his home in the Forest of Dean last August.
Bristol Crown Court was told there was "history" between the men and Belson - who denied murder - had drunk eight pints of lager that day.
Belson, of Ashton Close in Berry Hill, was found guilty of manslaughter.
During the trial, the jury was told Mr Cooling had been arrested and charged by police the previous week after an argument with Belson's partner.
On 3 August he confronted Belson at his home and was beaten "severely" with the hockey stick.
Mr Cooling staggered home where he was later found by paramedics who were unable to save him. He died three hours later in hospital.
---
In court: Steve Knibbs, BBC News
Christopher Cooling was described in court as a "nuisance" - a drinker and drug addict who would wind people up. But not so much that he deserved to die.
Last August he had been drinking and went to his neighbour Eddie Belson's house to confront him and sort out their long-standing differences.
He threatened Belson and threw a recycling box at him, saying he was going back home to get a blade.
But Belson, who had drunk eight pints of lager that day, grabbed his daughter's hockey stick and started to hit Mr Cooling.
Belson told the court it was in self-defence, to protect his family, and that he was aiming only for his Mr Cooling's legs and arms to warn him off.
---
Det Ch Insp Steve Porter, from Gloucestershire Police, said people's lives had been "absolutely devastated" by what had taken place.
"The attack certainly was brutal and the injuries were sufficient to cause [Christopher Cooling's] death," he said.
"The pathologist gave quite detailed evidence of blows to his back which caused the internal injuries which ultimately resulted in his death."
In a statement, Mr Cooling's family said no court verdict "can ever bring Christopher back" and they "miss him greatly".
"We're aware it's not just our family that has been affected by this tragedy, which shows the dramatic impact the use of violence can have on people's lives," it read.