Gloucester man jailed for stabbing and running over ex-partner's husband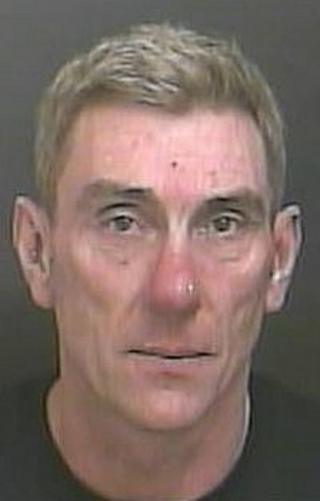 A man who stabbed and ran over the estranged husband of his former partner has been sentenced to 14 years in jail.
Mark Dodd, 49, attacked Glen Barnett in Pembury Road, Gloucester last month.
The city's crown court heard Dodd ambushed Mr Barnett, 44, as he set off for work. He is still receiving treatment for his injuries.
Judge Jamie Tabor QC told Dodd - who admitted attempted murder - he was guilty of a "premeditated, prolonged and determined attempt to kill".
Dodd smashed his victim's car window and then tried to gouge out his eyes, stabbed him twice and drove into him in the attack on 5 January, the court heard.
Soon afterwards Dodd handed himself into police.
Sentencing him, Judge Tabor said: "There was nothing spontaneous about it. You've caused your victim very serious injury.
"You used a knife and your car as weapons and endangered the lives of two passers-by who were going to the aid of your victim."
The court was told Mr Barnett was lucky to be alive. He had to have part of his intestines removed and could still lose a kidney.
Dodd, of Coopers Edge, Gloucester, had pleaded guilty to attempted murder at an earlier hearing.