Recycled bells installed in Churchdown church tower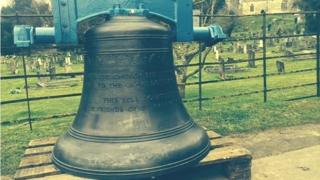 New bells, made from the recycled metal from an old peal, have been hoisted into a church tower in Gloucestershire.
St Andrew's and St Bartholomew's in Churchdown raised more than £80,000 to replace five of its six historic bells, damaged by centuries of ringing.
The new peal of bells is due to be rung for the first time on Friday.
John Gilden, who has been in charge of the project, said: "There's a band of six of us who are going to do a trial ring, so it's very exciting."
The old bells, some more than 400 years old, had become "so difficult to ring" that Friends of St Bartholomew's had warned the "sound of church bells could cease over Churchdown".
Last autumn, the damaged bells were taken down and three were recast at the Whitechapel Bell Foundry in London.
Forged from bronze, the new peal includes inscriptions dedicated to, among others, the residents of Churchdown.
"They're an evocative sound that means so much to so many people," said Mr Gilden.
"It's just the sound of summer in so many ways."