PC Darren Heath 'has more victims' in sex case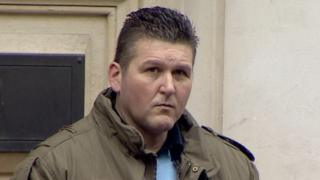 A police officer who admitted having sex with three vulnerable women he met while on duty has more victims, Gloucestershire Police has said.
PC Darren Heath, 44, from Taynton, pleaded guilty on Tuesday to five counts of misconduct in public office.
The offences took place between 2002 and 2013, but Detective Inspector Giulia Marogna said she had "no doubt" there were others he had targeted.
Heath was released on bail and will be sentenced next week.
'No remorse'
"The most disappointing thing is that he has shown no remorse whatsoever towards his victims and made no comment throughout his interviews," said Det Insp Marogna.
"He could have made it a lot easier for [his victims] but chose not to. Those victims have shown incredible bravery by supporting this prosecution and I want to pay tribute to them for that."
In an appeal to any other potential victims, she added: "You will be listened to and we may be able to direct you to support services that can help you."
At the Bristol Crown Court hearing, Heath also denied two counts of rape, one of theft and two more misconduct charges. These are not being pursued by prosecutors and will remain on court files.
Gloucestershire Police said Heath used his position to identify women - "often victims of crime who were already extremely vulnerable" - whom he could offend against.
He was described as "manipulative and calculating" by the force, which suspended him last year following an investigation into a complaint made against him in 2012.
He remains suspended from all duties and the force is considering what action to take next.