Gloucestershire GPs 'can buy their own services'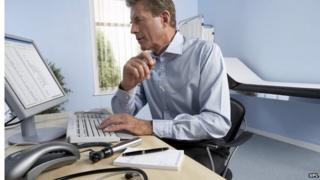 Campaigners say new NHS contract-awarding rules for GPs are a "disgrace" as they create a conflict of interest.
GPs on Gloucestershire Clinical Commissioning Group (CCG) have been given the power to award GP services.
Campaign group 38 Degrees is concerned this will influence the way contracts are awarded because the GPs themselves oversee the decisions.
But, the CCG said its decision-making committee's constitution will avoid this potential issue.
'Great opportunity'
David Perry, from 38 Degrees, said: "This announcement is a disgrace, introducing a conflict of interest with GPs commissioning GP services.
"It is similar to the conflict of interest in parliament when large numbers of MPs with financial interests in private healthcare companies voted for the 2012 Health & Social Care Act which has led to the privatisation of many more NHS service."
Gloucestershire CCG is the only one in the South West that has been given the go-ahead for the committee.
Campaigners believe as long as GPs are on this committee they will always be open to the accusation they are feathering their own nests.
Previously, GPs sitting on CCGs only controlled the purse strings for buying hospital and community services.
Mary Hutton, the accountable officer at Gloucestershire CCG, said: "This provides the CCG with a great opportunity to better meet local needs by commissioning more joined up services for patients from GP care, to care at home, right the way through to hospital services."