Banksy 'surprised' at listed status for Cheltenham Spy Booth work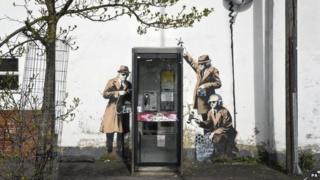 Listed status for a Banksy mural in Cheltenham has been described as "surprising" by the enigmatic artist.
The "Spy Booth" artwork, showing three figures "snooping" on a telephone box, appeared in Hewlett Road a year ago.
Businessman Hekmat Kaveh applied for the work, satellite dish and phone booth, to be included in the property's Grade II* listed status.
Banksy said on his website he was surprised "because when I did art at school I got an 'ungraded'".
The listed status means any unauthorised work affecting the listed mural would be a criminal offence. It has previously been daubed with white paint.
The house itself is already Grade II listed and is located about three miles from government listening post GCHQ.
The mural has been a source of controversy ever since it appeared - with people trying to steal it, vandals painting over it and business and communities fighting over ownership.
Mr Kaveh, who does not own the building, has been financially supporting a campaign group which wants to keep the artwork in place.
But others have criticised the listed status saying there was now "nothing to protect" the work from the elements.