Anger over development work 'beginning' near Cheltenham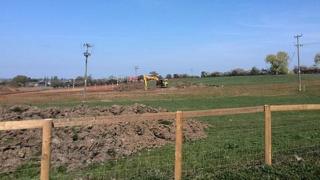 A developer has denied starting building work on greenfield land near Cheltenham before planning permission for new houses has been granted.
Redrow, which wants to build over 300 homes at Farm Lane, Leckhampton, has cut down trees and cut back hedgerows.
Tewkesbury Borough Council said it was investigating reports that work beyond that needed to support a planning application had taken place.
A Redrow spokesman said work was taking place as part of an archaeological dig.
Margaret White from the Leckhampton Green Land Action Group said: "Our worry is that it is being used as a Trojan horse to get the development going; it's not just an archaeological dig.
Eric Miller from the Leckhampton Local History Society said: "It looks far more industrial than I would have expected for an archaeological dig."
A spokesman for Redrow Homes said the excavators were in place as part of an archaeological investigation, and trees had been removed "prior to the bird nesting season to facilitate access to the proposed development".
"Nets have been put in place to prevent birds nesting in the sections of hedgerow which will also be removed to facilitate access to the proposed development if planning permission is granted," they added.
"In terms of the planning permission, we are currently having productive discussions with Tewkesbury Borough Council on design detail."
Council planners are due to decide whether or not to grant planning permission later this year.