Swingfields swingers festival music 'too loud'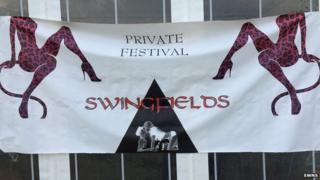 A swingers festival failed to click with nearby villagers who complained of nocturnal noise nuisance from three nights of "incredibly loud music".
Swingfields, which describes itself as a lifestyle festival, was held in Flaxley in the Forest of Dean over the weekend.
Locals said music from the festival, which lasted from Thursday until early Sunday morning, led to disturbed sleep.
Organisers of the gathering have not responded to requests for a comment.
Valley volume
One resident, who wished to remain anonymous, said he and his neighbours complained about the noise but festival organisers refused to lower the volume.
The villager said: "Suddenly on Thursday afternoon it started and ran until the early hours of Sunday. It was very, very loud.
"We asked them to turn it down and they refused. People all around the valley heard it and complained"
The man said environmental health officers, who recorded noise levels at 55 dB, also asked the swingers to turn it down but they refused.
He claimed locals felt "intimidated" by the event's security guards when they complained.
The resident said people living in the area should have been told about the event in advance, but "nobody was notified".
He said organisers had told them residents had been "mail dropped", but nobody he had spoken to had received any notification.
The festival's website stated ticket holders would only be told of the exact location two days before it began to allow it to "remain discreet and secure".
The Swingfields festival, which began in 2013, is described as "the UK's first dedicated lifestyle festival".