Cheltenham town centre one-way system changes approved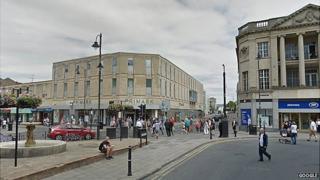 A plan to significantly change traffic-flow and one-way systems in Cheltenham town centre has been approved.
It means a proposal to pedestrianise "Boots Corner" could also still go ahead in 2017.
Cheltenham Borough Council's Transport Plan was signed off by Gloucestershire County Council's cabinet.
Changes will be phased in over the next two years, starting with allowing two-way traffic in parts of Albion Street. Work is expected to start in October.
Alterations to Imperial Square and Oriel Road will take place from next April, and work on Royal Well will begin next summer.
A trial closure of Boots Corner to most traffic will begin in 2017 if a review into how traffic is flowing proves successful.
The Cheltenham Transport Plan is a major scheme aimed at reducing traffic in the town, and encouraging more people to walk and cycle.