Darth Vader joins the dark tide on River Severn rescue boat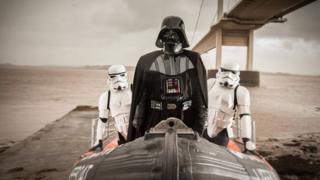 Darth Vader and Star Wars stormtroopers have been seen sailing the dark tide on the River Severn.
The Force was strong as the boat took the Sith Lord up the Severn Estuary, under the Severn Bridge and came ashore at the lifeboat station in Beachley.
Scenes from the upcoming Star Wars: Episode VII The Force Awakens were filmed at nearby Puzzlewood, in the Forest of Dean.
The lifeboat stunt was to publicise productions filmed in the region.
Last week Stormtroopers were spotted surfing the Severn Bore.
Mark Terry-Lush, director of Wye Valley and Forest of Dean Tourism, said: "The region's reputation for hospitality has clearly travelled throughout the galaxy and we are delighted to welcome all visitors from the Galactic Empire."
Other productions to have filmed scenes at Puzzlewood in recent years include BBC TV shows Merlin, Atlantis and Doctor Who, and the Hollywood movie Jack the Giant Slayer.