Forest of Dean trail gets 'sentient' LED light sculpture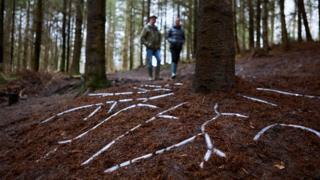 An interactive light sculpture has been installed in woodland as part of a Gloucestershire sculpture trail.
A network of LED lights triggered by motion sensors has been created for the Forest of Dean by Andrea Roe.
The temporary commission, called "Sentient Forest", will be on show for a year.
Ms Roe said she had imagined that instead of visitors "seeking out an artwork" on the trail, the artwork "would sense" a person's presence.
Commissioned by the Sculpture Trail Trust in partnership with the Forestry Commission, the installation has been added to the 4.5 mile (8km) forest trail near Coleford.
'Strange goings on'
The network of pulsing lights is inspired by the theory forests have their own communication systems of "mycelium", allowing information and nutrients to pass between fungi and trees.
"The commission has given me the opportunity to investigate and visualise fungi to tree communication, a subject that fascinates and intrigues me," said Ms Roe.
"We have produced a microcontroller-driven lighting system which mimics underground mycelial networks and, when triggered, communicates the presence of passing walkers to nearby trees."
The trust said the "technological artwork" brings the "trail into the 21st century".
Cathy Mager, trust project manger, said: "Normally light sculptures are something you have to go and see in the dark in winter but this has used the fact that in woodlands it's dark all year round.
"And at night, there's going to be creatures around the forest activating it - so lots of strange goings on in the middle of the night."
The work will remain in place until April 2017.