Leicester City fan rakes in £33k on £5 Premier League bet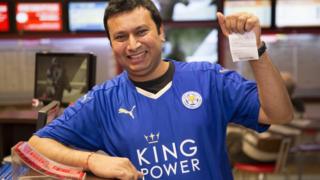 A Leicester City fan has won £33,000 after refusing to cash out a £5 bet on his team winning the Premier League.
Keval Nakesheree, from Gloucestershire, placed an each way bet on Leicester winning the title at 5000/1 in August.
With "faith in Leicester defying the odds" he booked a holiday in Florida with the winnings, missing the decisive match between Tottenham Hotspur and Chelsea on Monday night.
Ladbrokes said: "We've never known a fan as confident as Keval."
Mr Nakesheree, who was born in the East Midlands but moved west 15 years ago, said he had booked the family trip when the Foxes were odds-on to win the league.
"Some fans cashed out of their title bets in March - I booked a holiday," he said.
"Just like King Claudio I missed the big game as I was flying, but as soon as I touched down I checked the result and the outcome I had always believed in was finally a reality."