Cow and calf killed by police car and van on Gloucestershire commons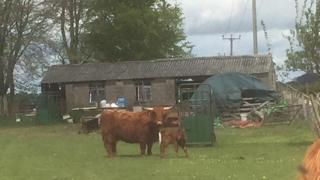 A cow and calf have been killed by a police car and van, days after being released on to Gloucestershire commons.
The animals were part of a herd of 500 cattle released to graze on Rodborough and Minchinhampton Commons 10 days ago.
The calf was hit by a police car responding to an emergency on Sunday evening. Its mother was struck by a van at about 06:30 BST.
Mark Dawkins, hayward to the commons, said the mother would have been distressed looking for her offspring.
He said: "It has happened before when a cow cannot find its calf and will be fairly manic while looking for it, then puts itself in danger and gets hit."
A Gloucestershire Police spokeswoman confirmed the collisions had taken place and said no officers were injured.
Last year, eight cows were killed by vehicles despite the introduction of reflective collars to reduce night-time collisions.
A new digital warning sign was being trialled for the first time this year, in a bid to reduce the deaths.