Contractor chosen for fire-damaged Baker's Quay revamp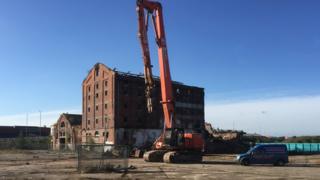 A contractor for a £55m development on Gloucester Docks has been announced with work due to begin in September.
Barnwood Constriction has been awarded the contract by Rokeby Merchants Developments to revamp Bakers Quay.
Director of Rokeby, Adrian Goodall, said: "The development will sustain 100 local jobs, as Barnwood and all the subcontractors are from Gloucester."
In October Provender Mill was damaged in an arson attack, leading to fears it would jeopardise the development.
The work is scheduled to take 15 months with completion due in September 2017.