Magna Carta stored on a glass coin presented to Salisbury Cathedral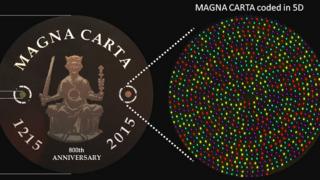 A glass coin with the Magna Carta preserved on it "for eternity", has been presented to Salisbury Cathedral.
The cathedral holds one of the original documents, signed by King John at Runnymede on 15 June 1215.
The disc was created by researchers at the University of Southampton to preserve data for billions of years.
Prof Sir David Payne said: "The original is scratched in quill pens on sheep or goat's skin, so we've come a little way since then."
Using technology that can store "vast amounts of data" in glass, the one inch (2.5 cm) glass disc is inscribed with both the Latin and English Versions of the Magna Carta.
Sir David, director of the research centre, said it had been working on ways of preserving data and had decided to try its methods out on some "iconic documents".
"The Magna Carta is one of them and we thought let's be sure we can keep a copy of that for as long as mankind will survive on this planet - which is reckoned to be about a billion years," he said.
"Now we've really rather overshot that because the technology that we have come up with is going to last about a billion, billion years."
According to the university, up to 360 TB of data can be stored on a single CD sized disc; more than 7,000 times more than today's 50-gigabyte double-layer Blu-ray capacity.
"A CD is reckoned to last about 10 years and good old magnetic tape - which is the current way of storing data - that lasts about 20 to 30 years at the best and then it's got to be rewritten over and over again," said Mr Payne.
"We are generating billions of bytes of data every day which has to be stored in some way and we're running out of places to put it."
Salisbury Cathedral is home to the "finest preserved" of the four original copies of the historic charter, which is seen as the foundation of constitutional law in England.
The other surviving copies are held by the British Library and Lincoln Cathedral.